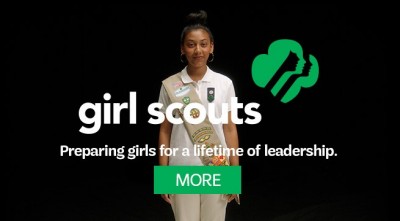 Whether your girl is part artist, part scientist, or part explorer, Girl Scouts is where she can pursue what she loves and blaze new trails. Here, girls take on leadership roles in a girl-led space and develop skills they'll use to make an impact.  Watch the new video to see current Girl Scouts show the world they know who they are and what they're made of—they're all Girl Scout! 
Continue >

GSCSNJ Buy 5 Cookie Winners Announced!
18 Mar 2019
The Girl Scouts of Central & Southern New Jersey's Cookie Program that ended March 10 was where cookie supporters who bought 5 boxes of Girl Scout cookies or more at a time were eligible to enter in the Buy 5 contest. The winners receive Girl Scout cookies for a year!
07 Mar 2019
The first 107 NEW girls to call in and register for Girl Scouts will receive their 2019 membership FOR FREE! The Girl Scout Join-a-Thon is a registration event for brand new Girl Scout members to celebrate Girl Scouts' 107th birthday! Call between the hours of 8am and 8pm on Wednesday, March 13 to start your Girl Scout journey and win exclusive prizes!
2019 Celebrate: Adult Volunteer Award Ceremony
06 Mar 2019
Celebrate acknowledges the commitment of individuals and organizations who help us deliver the Girl Scout Leadership Experience to Girl Scouts in 9 counties throughout central & southern NJ. This year we are excited to honor the following volunteers for their years of dedication and their commitment to the Girl Scout Mission; and the community partners who assist Girl Scouts in a variety of ways.