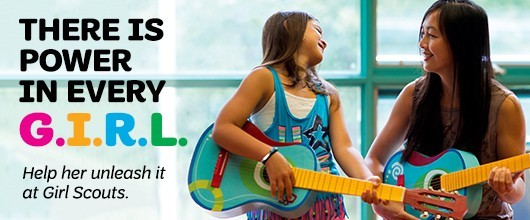 Why Support?
Girl Scouts of Central & Southern NJ helps more than 20,000 girls thrive in 9 New Jersey counties through activities that help them discover, connect and take action.
We believe that when girls succeed so does society. Whether they're assembling robots, planting trees, collecting cans of food, or petitioning Congress, Girl Scouts are building a better world for all of us. But we need your help to ensure every girl in every zip code develops the confidence that Girl Scouts nurtures.
Hear from a few of the many individuals who are helping today's girls become tomorrow's leaders.
"Girl Scouts impacts me because I want to help girls become who they should be. Women and girls have come a long way in society, but we still have a long way to go. It is getting better, but women and girls are still not completely equal and these types of changes start with girls.  Girl Scouts is a place where girls can build up own self-confidence, but also make friends.  Girl Scouts sets the best practices for fun and for developing leaders, but I want more girls to have that opportunity."  - Jeanne
"Throughout my life, Girl Scouts has always pushed me past my limits. I feel like after all this time, I AM a Girl Scout, it's in my blood. It's not a club you join, it's a person you become."  - Aubrey
"It's important for young girls to have friends who are experiencing the same problems, dilemmas and conflicts that they are.... It is good to have a support system outside of your family for different viewpoints and different ways of looking at everything." - Denise
"This is an organization where I know my contributions will help create the next generation of girls – and ultimately, shape the next wave of leaders." - Lynn
Girl Scouts of Central & Southern NJ would like to thank the local United Way, corporations and foundations who support our mission.